Edwards Garage Service Centre
Welcome to GM Certified Service, your one-stop shopping destination for all your GM vehicle's service and maintenance needs. At GM Goodwrench, nobody knows your GM vehicle better and our factory-trained experts are available wherever and whenever you need them.
Schedule My Service Appointment
Our service department's commitment is to provide you, the customer, with exceptional service that will exceed your expectations. Our service consultants are able to provide you with the expertise to help you maximize the life of your vehicle and our GM factory trained technicians will make sure your vehicle is fixed right the first time.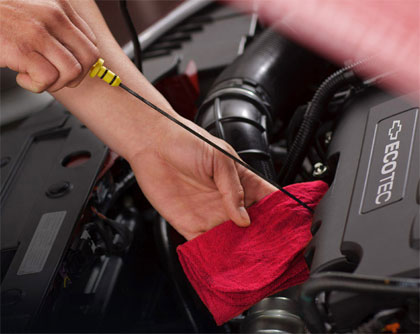 Quick Lube - No Appointment Necessary
The Edwards Garage Quick Lube is your one stop source for all your fluid services. There is No Appointment Required and we service All Makes and Models.
Typical services that our quick lube offers are:
Oil Changes/Filters
Front & Rear Differential Services
Transfer Case Services
Cooling System Flushes
Transmission Flushes
Power Steering Flushes
& Much, Much More!
So next time your vehicle needs its maintenance done, consider Edwards Garage your 'One-Stop Lube Shop'.
Medium Duty Service Department
Edwards Garage is a franchised Medium duty dealer for GMC Top Kick trucks. We offer warranty services for our product line as well as maintenance repairs. We understand that the trucks used in our area require fast, expert repairs to keep your downtime costs at a minimum.
Our Medium Duty Department is open Monday thru Friday. Please call our Service Department today to book your appointment. Helping Save Lives on the Road. Oil Changes
Your engine is literally the heart of your vehicle. As your engine is running, so are hundreds of other parts. Oil is used to lubricate these parts because tremendous heat is created through friction when your vehicle is running.
Without oil, these parts would become hot enough to melt. The engine heat slowly breaks down the oil. When the oil breaks down, it becomes less slippery and doesn't protect your engine as well. This is why your GM manufacturer has recommended time periods for the oil in your GM vehicle to be changed.
Tune Up Services
As your vehicle is made up of hundreds of different parts, over time, these parts will sometimes wear out and this will result in poor engine performance. Over time, you may have clogged fuel injectors, dirty fuel & air filters and spark plugs that aren't working efficiently. You may notice that it's time for a tune up by some of the following conditions:
Decreasing gas mileage
Loss in power
Rough running engine
Engine is making a knocking noise
"Service Engine Soon" light is on
Stalling when you stop
A/C Services
Do you want to be driving around during the summer, in a typically hot Alberta day without any Air Conditioning? Your GM Service Technician can re-charge your vehicle's A/C so that you are prepared for hot weather. Your Technician will also check for leaks, worn seals and o-rings and any loose connections or worn hoses.
Transmission Services
Next to you engine, replacing your transmission can be one of the most expensive replacement costs you may have to make on your vehicle. The maintenance on your transmission is crucial to the life of your vehicle. Your vehicle uses transmission fluid to cool the moving parts in the transmission, exactly like your engine uses. Your vehicle needs to have clean, cool and lubricated fluid to keep it running at top performance levels.
Long Life Inspections
At Edwards Garage, we call your semi-annual inspections "Long Life inspections" because they do just that - help to extend the life of your vehicle by reducing chance of unexpected breakdowns and expensive repairs. This service is an in-depth check-over of your vehicle including:
Restraint System Check
Throttle System Inspection
Automatic/ Manual Transmission
Trans Axle Check
Engine Air Cleaner
Filter Inspection
Engine Cooling System Inspection
Brake Inspection
Wiper Blade Check
Steering & Suspension System Inspection
Lubrication Service
Ignition & Parking Brake Safety Check
Body Condition Check
Oil Life System Check
Lube, Oil & Filter Check
Electronic Battery Check
Tire Inspection (including rotation service & spare tire check)
GM Roadside Assistance
GM Roadside Assistance offers a number of services that help ease concerns resulting from unforeseeable emergencies We're there when you need us.
Schedule My Service Appointment
Benefits
Even high-quality design and engineering can't prevent occasional problems. That's why we created GM Roadside Assistance.
GM Roadside Assistance is an important added benefit of ownership. It's complimentary for the duration of the New Vehicle Limited Warranty Coverage period. But when your New Vehicle Limited Warranty coverage expires, so does your link to help in case you need it.
Roadside Assistance includes:
Emergency Towing Service
Lockout Service
Flat Tire Change
Jump-Start Service
Emergency Fuel Service
Trip Interruption Benefits and Assistance
Trip Routing Service
Alternate Service
Towing and Road Service Exclusions
Hotline
The GM Roadside Assistance hotline is open 24 hours a day, 365 days a year. Simply call 1-800-268-6800 and get help from the people who know your vehicle best.
Regular Auto Maintenance
Systems and components that should be regularly maintained on your vehicle:
Oil and Oil Filters
Air Filters
Brakes
Charging/Battery
Belts
Cooling
Wipers
Ignition
Shocks/Struts