09-29-19
Chevrolet to open retail sales of Spark EV in Canada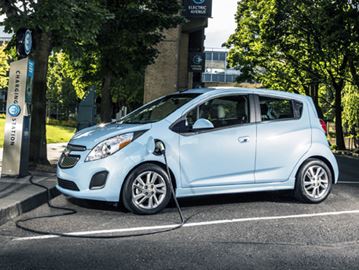 Chevrolet has announced it will expand the availability of the 2016 Spark EV for retail customers across Canada.
Spark EV has been available for fleet customers for two years but now will be eligible for provincial incentives from the provinces of Quebec, Ontario and British Columbia.
Chevrolet also offers the best-selling electric vehicle in Canada, the Volt, and has recently announced plans to bring the next generation all-electric vehicle based on the Chevrolet Bolt EV Concept into production.
The Chevrolet Spark EV is an all-electric urban mini-car designed for fun driving and easy ownership. It offers the latest in technology and in-vehicle infotainment, including industry exclusive OnStar with 4G LTE and standard built-in Wi-Fi hotspot.
It uses no gasoline, yet its GM-built motor and drive unit deliver 327 lb/ft of instant torque, enabling a 0-97 km/h (0-60 mph) time of 7.2 seconds.
Storing that energy from the charging process and the vehicle's regenerative braking capability is an 18.4-kWh lithium-ion battery pack.
When fully charged, Spark EV features a combined city/highway estimated range of 131 km and an estimated city/highway fuel consumption equivalent of 2.0 Le/100kms.
Three available levels of recharging capability include the industry's first use of the recently approved SAE combo charger for DC fast charging, which charges 80 percent of the battery in just 20 minutes.
Pricing for 2016 Spark EV will be available at a later time.
Source: Metroland Media
---